We have put together several resources on our site to help you find the best smoker for camping and in this post, we give you the best electric smokers to choose for your camping needs.
Electric smokers are a great way to get that delicious smoky flavor without having to worry about tending a fire or dealing with charcoal. All you have to do is set it up and let it work its magic!
Not only are electric smokers cleaner and easier to operate than their propane and charcoal counterparts, but they impart the same mouth-watering flavor and aroma to smoked meats, chicken, fish, and even vegetables.
Keep scrolling to see the best electric smokers we have chosen in this RV camping resource guide.
In a hurry? Here's our pick for the best electric smoker in 2023!
What is an Electric Smoker?
One of the reasons that so few people smoke their own meats is that it's time-consuming and involves a lot of trial and error. Why go to all that trouble for sub-par results?
An electric smoker is one of the easiest types of smokers to use because in most cases, you basically set it and forget it.
Electric smokers make use of either electric rheostats or thermostats to control the temperature inside the smoking chamber.
With rheostat-controlled electric smokers, you usually choose a setting – low, medium, or high. A thermostat allows you to choose a temperature for more accurate results.
Unlike gas, charcoal, or pellet smokers, where the heat comes from combustion, an electric smoker uses a superheated metal coil and very little oxygen.
You add wet or dry wood chips and water to help achieve a juicy, smoke-infused flavor.
While you can certainly add wood to your electric smoker (and we do this every time by the way) to impart a particular flavor, there is a distinct taste difference between smokers that use gas, wood, or charcoal.
Electric smokers produce delicious results, and because they are so easy and inexpensive to use, they are worth every penny you spend on them.
How Do Choose An Electric Smoker?
Size and capacity – The electric smokers in this buying guide range in size from a portable 24" patio smoker with two racks, to 30" models with more than 730 square inches of cooking space across four racks. The larger-capacity smokers are great if you're into outdoor parties or have a large family, but definitely go smaller if you have limited space or a small family. Even the smallest size can cook full chicken and a rack of ribs at the same time.
Thermostat vs. rheostat – Models with a thermostat cost a bit more, but they produce much more accurate results than models with a rheostat.
Warranty – We hope that your new electric smoker lasts a long time, but if it doesn't and something goes wrong, you want to be protected. Check the warranty information for the electric smokers you are considering before making a purchase.
Portability –Some smokers are small and easy to carry. Others have wheels to make moving them easier. Keep size, weight, and portability in mind when choosing your electric smoker.
Join The Grill Master's Club
What's better than a BBQ at the campground? A BBQ where you are the Grill Master!
Join the Grill Master's Club today and start receiving your monthly subscription box today. Click the link below to learn more about what's included and why your' going to love being a member of the #grillmastersclub!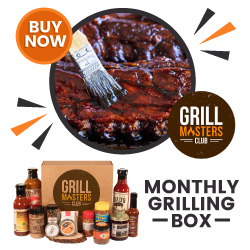 Make sure you consider these features when searching for the perfect Electric Smoker that will suit your needs.
Are electric smokers worth it?
There are three primary reasons why you would choose an electric smoker over a propane, charcoal, or wood smoker.
Electric smokers are incredibly easy to use. There's not much trial and error — you basically put your meat in the smoking box, set your thermostat and timer, and forget about it.
Electric smokers are also fairly portable. They are particularly useful for apartment living or places where you aren't allowed to use combustible materials for grilling.
Electric smokers are comparable in price to other types of smokers, but they are much cheaper to operate. Buying charcoal or propane tanks for six to eight hours of smoking will set you back more than five times what you'll pay for electricity.
Shop Grilling Accessories
One of the best things about an outdoor lifestyle is outdoor food! Whether you are camping, boating, or just having a BBQ at home, grilling and smoking food are some of the best ways to enjoy the outdoor life. Here are a few grilling accessories from Z-grill we think you will love.
Can I Use My Electric Smoker for Camping?
Yes! Absolutely!
This is precisely why we prefer an electric smoker over other types of smokers. The portability and ease of use make an electric smoker perfect for camping. We easily transport ours in our RV camper to the campground.
In fact, having a smoker is great for camping get-togethers and family reunions as you can cook enough food for the entire campground if you like without slaving all day over the oven or fire.
We personally use the Masterbuilt Electric Smoker during our camping trips and have had great results. It's small enough to be portable but large enough to smoke enough ribs or pork butts to easily feed our family of 5 for days (and a few of our closest camping friends!)
Using an electric smoker is such a great way to up your barbecue game, and they are definitely the best and easiest choice for beginners. If you have a favorite electric smoker that isn't on our list, please share your suggestions in the comments below.
Download Our FREE RV Kitchen Checklist
More Electric Smoker Resources
RELATED RESOURCES
We all want to keep our food fresh while we're at camp and what better way to do that than to invest in a cooler that will suit your needs and budget. Check out our buying guide on the best camping coolers on the market.
While cooking your favorite meats, here are some fun camping games for families to pass the time.