Now that you've chosen an electric smoker after researching for the best smokers for camping to buy, it's time to find the best meats to smoke in an electric smoker.
As you can imagine, portable electric smokers are a popular choice for RV campers. So after you've learned all about which electric smoker to buy and how to use it, you definitely need some great recipes to try out.
If you are like us and just love the smell of smoked meat at the campground, then you are going to love this RV camping resource guide.
What are the best meats to smoke in an electric smoker?
There are countless options when it comes to choosing the perfect meat for smoking. Here are our top picks for the best meats to smoke in an electric smoker.
Pork Shoulders
If you have been into smoking meat for quite a while, you probably know by now that pork shoulders are one of the top choices when it comes to smoking simply because of their balance of fat and meat.
Smoking is a low and slow process, and pork shoulders are perfect for this slow process. They come out juicy and tasting great making the slow process well worth the wait. Choose a cut that has more bones and ¼ inch of fat for a more tender and flavorful texture after smoking.
Beef Brisket
If it was a popularity contest, brisket is definitely the winner!
It's one of the most popular choices of meat when it comes to smoking.
These cuts come from the chest of cows and have high-fat content which is delicious when smoked. The fatty layer also allows for a more tender result.
In choosing the best cut, go for the piece that has a nice amount of fat and marbling. You can ask your butcher for the "packer's cut", which refers to a piece of brisket with the fatty layers on top and middle part of the beef.
Tip: Check for the most tender piece of brisket by bending it, the more it bends the better.
Related Reading: 7 Best Portable Smokers for Camping
Pork and Beef Ribs
The wait is not very hard when you know you'll be getting the tasty goodness that pork or beef ribs has to offer. This meat has been a crowd favorite when it comes to smoking and in demand in markets as well.
In case you don't know, ribs have different cuts: spare ribs, short ribs, beef back, back baby back ribs, and country-style ribs. The best choice to smoke in your electric smoker is the baby back and spare ribs.
Keep in mind, to choose a piece that has a lot of meat and less of the fat on the bones, because you wouldn't want your meat to be drenched in fat after smoking.
Pork and Beef Roast
Chuck roasts, shoulder roasts, and cross ribs have high-fat content that is perfect for slow cooking inside an electric smoker and you can expect a juicy and moist piece of meat after it's done.
Whole Turkey
Have you smoked a turkey before? If you still haven't tried it, you're missing out. When prepared and smoked properly, smoked turkey is delicious.
Expect the meat to be moist with a perfect firm texture.
To prevent your turkey from drying while smoking, brine in a saltwater bath for 1 hour per pound before smoking. Smoking time is 225℉ at 30 minutes per pound.
Sausage
Pork, beef, and chicken sausages all make great choices for smoking.
Be sure to keep scrolling to check out the 7 irresistible meat recipes that you can do for your next weekend trip!
What's the easiest meat to smoke?
The easiest and most economical meat to smoke in your electric smoker is the Boston Butt (Pulled Pork), because it is well-marbled compared to other types of meat.
Hands down, smoked pork butt is our favorite smoked meat to make at the campground. It's great for having the whole family or church over for a cookout.
Join The Grill Master's Club
What's better than a BBQ at the campground? A BBQ where you are the Grill Master!
Join the Grill Master's Club today and start receiving your monthly subscription box today. Click the link below to learn more about what's included and why your' going to love being a member of the #grillmastersclub!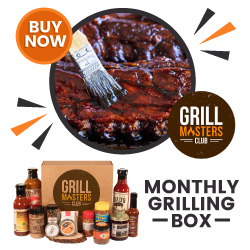 We often have a big 4th of July bash at our local state park, and a pork roast is usually the star of the show. I lay claim to the burnt ends!!
What is the hardest meat to smoke?
While beef brisket is by far the most popular meat to smoke in an electric smoker, it's not the easiest nor cheapest meat to smoke.
However, don't let that stop you. With a good recipe and lots of patience, you can have some of the tastiest smoked meat there is with brisket.
Grab this FREE Camping Menu Planner!
Recommended Resources
More Related Resources
Be sure you check out all of our camping meal resources and here are a few more electric smoker recipes you might enjoy.