Don't you just love the smell of grilled food when you're RV camping? Today we're going to talk about some of the best portable grills for camping, so you can enjoy all the fresh grilled food you want!
A reliable and portable grill is essential for outdoor cooking, especially when camping. Its ease of use and portability make it a convenient alternative to a full-sized grill for cooking delicious camping meals.
There are plenty of great options out there when it comes to best portable grills for camping.
Whether you're looking for something small and lightweight or large enough to feed your entire family, we have compiled a list of some of the best grills available on the market today.
What Is A Portable Grill?
Portable grills come in various shapes and sizes, and they are compact and easily transportable means of grilling your food anywhere you want. They come in handy especially during camping, tailgating, picnics, or simple day trips.
With the small size that it comes in, it is super easy to set up and store after you're done. And just like a full-sized grill, you can use it to cook different types of food like chicken, beef, veggies, seafood, and a lot more.
How Do I Choose A Portable Grill?
When buying the perfect portable grill, you should put these features into consideration:
Grill Type: There several types of grills available, but the most popular ones are the gas and charcoal types. These two kinds of grills are easier to handle and give out a more authentic smoky flavor compared to that of the electric types.
Weight: Portable grills vary in weight, it is better to choose the lighter option without of course compromising its quality. Most of these grills come with wheels or handles for easy handling so it is not much of a big deal when we talk about the weight.
Cooking area: Are you cooking for a family of 5? Or are you cooking for one? The cooking area of most portable grills is around 200-300 square inches. Make sure there is enough room for everyone when you finally choose one.
Quality of Materials: The quality of materials says so much about the durability of your grills. Firebox cast aluminum is one great material that is durable and rust-resistant. Porcelain-coated grates allow you to sear foods most effectively.
Vents and airflow: Make sure that there is a proper vent placement because it is essential in controlling the heat that is coming in and out of the grill.
Design: Check the grill's overall built, Is the interior spacious enough? How does it minimize flare-ups? The design would reflect how effective and convenient it really is.
Yes, we know it, choosing the perfect portable grill for camping is not that simple.
I mean where do we even begin?
With so many options to choose from, it can be a challenge to select the perfect fit for you.
Let us take that weight off your shoulder because we have picked out the best portable grill for camping in the market for you to choose from based on the highest ratings, key features, and value for money.
What Are The Types of Portable Grills?
There are 2 main types of portable grills which are the Gas grills and Charcoal grills. These two have unique characteristics making them great portable grills for camping.
Gas grill(Propane)
The most common type of gas used for grilling is Propane. A lot of people use gas grills due to their convenience, you can easily ignite and start grilling in an instant. Propane-fueled grills are compact and easier to clean up than charcoal grills.
You can enjoy all of these perks, of course at a higher cost. Aside from it being pricey, it also doesn't burn as hot as charcoal and there can also be a bit of a struggle to carry it around with a heavy tank. One simple reminder is to always turn off your gas after using it to prevent any accidents.
Join The Grill Master's Club
What's better than a BBQ at the campground? A BBQ where you are the Grill Master!
Join the Grill Master's Club today and start receiving your monthly subscription box today. Click the link below to learn more about what's included and why your' going to love being a member of the #grillmastersclub!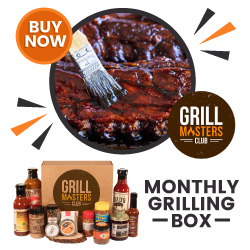 Charcoal grill
One big advantage of charcoal grills over propane grills is that it is cheaper and more affordable. It burns hotter than your propane grills and generally doesn't flare up like the propane grills, of course knowing this you still have to be cautious in handling charcoal grills.
Also, you should know by now that charcoal grills are messy and harder to clean. Cooking in this type of grill, if it's your first time can be challenging, constant attention is required. But with all the inconveniences that it has, some people prefer this grill over any other type because of the authentic smoky flavor that it adds to food.
How many BTUs do I need for a grill?
In case you don't know, BTU stands for British Thermal Unit, it basically tells you how much fuel it will use in a given period.
75 and 100 BTUs per square inch of heating surface is the standard BTUs needed for grills. Grills that have lower than 71 BTUs per square inch have longer cooking time due to their lower temperature when in use.
While Grills that have 100 BTUs or more per square inch could generate too much heat and if you're not quick, this can char your meat. If you want a grill that can cook your meats perfectly with consistent heat, the ideal grill should have 80 -100 BTUs per square inch of cooking area.
Care and Maintenance of Portable Grills
Taking care of your portable grills whether it's gas or charcoal fueled is pretty much simple.
Gas Grill- After using your portable gas grills, cover or shield them against harsh temperatures or dirt. If your grill comes with a bag, you can opt to put it there.
Regularly check for gas leaks, you can do this by turning on the gas and running soapy water on the gas line, the appearance of bubbles indicates that there is a leak.
Make sure that the grease traps are empty and don't forget to clean your grills, scrape off any unwanted stuff that is stuck in your grills using a grill brush or wipe them with a wet cloth to remove the dirt.
Pro-tip, to burn debris or excess dirt, turn your grill up to high for about 15 minutes once a month.
Charcoal grill– Make sure that you clean your grill by taking out the ashes that have formed after grilling. Never leave your grills under the rain while it still has ashes on it. Water plus ash will form lye which can be potentially damaging to your grills.
And just like cleaning your gas grill, you can simply scrape off debris by brushing your grills or using a wet cloth to wipe it.
Shop Grilling Accessories
One of the best things about an outdoor lifestyle is outdoor food! Whether you are camping, boating, or just having a BBQ at home, grilling and smoking food are some of the best ways to enjoy the outdoor life. Here are a few grilling accessories from Z-grill we think you will love.
Get These FREE RV Kitchen Checklist Now!
More RV Camping Resources
MORE RELATED RESOURCES
Since we're on the topic of grilling and BBQs, you might also want to consider getting an electric smoker for your camping trip.
Grilling is pretty straightforward, but if you're not confident yet, here are some grilling tips to help.
Don't Forget To Check Out Our Web Stories!