If you love the unique taste of smoked meats at the campground, you will love this RV Camping resource on the best smokers for camping.
Smoking food has been one way of cooking meat ever since our ancestors discovered fire and it has remained a big part of outdoor cooking even today.
These convenient smokers for camping will satisfy your cravings for smoked meat at the campground while making it super easy to still enjoy your downtime.
Adding smoked meats and vegetables to your camping meals makes outdoor dinner time even better!
Types of Smokers
Electric Smoker– Use electricity as the main heat source • Wood chips required • Super User Friendly
Pellet Smoker– Wood pellets that are fed/loaded to a firebox • Easy to use • Thermostatically controlled.
Charcoal smoker– Uses charcoal • Campers love this because of the authentic smoky flavor
Gas( Propane) Smoker– Vertical, cabinet-style design• Wood chips or chunks needed
Offset Smoker– Bulky and large build •Best for bigger crowds & restaurants • Not great for portability
Best Smokers for Camping
These are our picks for the best campground smokers on the market.
Smokers for camping have been a huge help for camping individuals and families.
Thankfully, smokers are more portable and require minimal storage space inside an RV, which is a big deal since space in an RV is definitely a luxury.
Related Reading: Best Portable Grills For Camping
Join The Grill Master's Club
What's better than a BBQ at the campground? A BBQ where you are the Grill Master!
Join the Grill Master's Club today and start receiving your monthly subscription box today. Click the link below to learn more about what's included and why your' going to love being a member of the #grillmastersclub!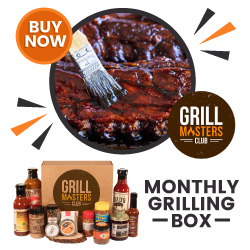 More RV Camping Resources
Don't Miss Our RV Camping Web Stories!