When I first wrote this article in 2018, I had just discovered wide-toe box shoes and how important a wide-toe box hiking shoe is for improving my stamina on the trail. Now, that I'm a more seasoned hiker, I love to share what I've found to be the best hiking shoes for every need.
For years I never understood why no matter what my shoe size was, my left foot would be in excruciating pain by the end of the day, let alone a day of hiking.
If you are in a hurry, skip the guide and go straight to my favorite wide-toe box hiking shoe now or Visit our Amazon Store to see my favorite hiking shoes as well as other favorite products.
That was until I discovered that the top of your shoe is called a "toe box".
If you suffer from bunions as I do, you need it to be wide enough to accommodate your foot or you are going to be in pain!
That's why I put together my favorite wide-toe box hiking shoes to help you and others enjoy hiking again.
Best Wide Toe Box Hiking Shoes
Fast forward 5 years and I still believe in the importance of wide-toe box hiking shoes as well as wide toe box shoes for every occasion; that is if you want to have comfortable feet.
If it were up to me, I'd move to southwest Florida and never wear anything but flip-flops or sandals, but alas, it's not up to me so I have to settle for only visiting Florida and depending on excellent wide toe box shoes to get me through the rest of the season.
Hiking With Bunions
Five years ago, when I wrote this post, I had decided that Salomon Women's X Ultra Prime CS Waterproof W Hiking Shoe was the most comfortable hiking shoe I'd ever worn with a wide toe box.
I still recommend them as one of the best hiking shoes for bunions, but I have to be honest, I struggled with the Salomon's that have GTX.
GTX is important if you know that you are going to be hiking through a lot of water, but as most of my seasonal hikes don't usually encounter much more than the occasional mud puddle, I decided that I could live without the GTX on my hiking shoe.
Here's why.
I found that the GTX just constricted the shoe and made it too stiff which is great if you don't suffer from bunions and need a wide toe box, but if you do, then the GTX, in my opinion, makes the shoe inflexible and more importantly, my feet still hurt at the end of the hike.
Bingo! This is it. I finally found a shoe that I can honestly say is a joy to wear, I don't even feel like I'm wearing shoes when I wear these: The Altra Quantic Timp 3 Trail Running Shoe is my absolute favorite go to hiking shoe with a wide toe box.
So, while I love my Salomon's, and I occasionally still wear them, I was still on the hunt for a better more comfortable shoe that could be not only my hiking shoe but my everyday pair.
That's where my Altra's come in!
They are comfortable, have a good grip, and work great for everyday trail walking with my dog and seasonal camping and hiking with my family.
I'm not saying that they are necessarily the shoe for extremely rugged hiking or walking through streams, but Altra does make some other more rugged hiking boots if you'd like to give them a try.
What I am saying is that these are now my #1 pick for Wide Toe Box Shoes for Hiking for Women.
I'm moving the Salomon's to the #2 pick category.
With that update, please continue to read this guide for other Wide Toe Box Hiking shoes, and be sure to check out all my posts about the best wide toe box shoes for people who suffer from bunions as well as specialty ski boots, boat shoes, and more. You'll find them all right here.
We've covered running shoes, boat shoes, hiking boots, and I'd love to hear your opinions. What are your favorite wide-toe box hiking shoes?
Getting the best wide toe box hiking boots is crucial. If you suffer from bunions, you need hiking boots with a wide toe box for optimal comfort. In this guide, I'll share why it is especially important to buy hiking boots with a wide toe box and which ones are my favorite.
Now that I have learned about the importance of the size of toe box in my shoes, I only buy shoes that have a wide toe box whether I'm buying hiking boots with a wide toe box, a wide toe box running shoe, or a new pair of sandals for the beach (like my absolute FAVORITE NEW ROSE SANDAL BY KEEN), I always look for shoes with a wide toe box.
All the brands of hiking shoes in this guide rise to the top when it comes to comfort.
What Does Wide Toe Box Mean?
Unless you are wearing an opened toe shoe, you shoe has a "toe box".
It's the box at the top of the shoe where your toes go!
It's that simple.
Every shoe has a toe box, but not every shoe has a toe box that is designed to your foot.
Don't miss, "How To Fit Hiking Boots Like a Pro" while you are here!
Why Does a Wide Toe Box Matter?
Most of today's shoe manufacturers do not create shoes that are made for REAL FEET!
Many manufacturers, I suppose in an effort to be "fashionable", seem to design shoes with the opposite intent in mind.
Women, especially, tend to put our feet through a lot of unnecessary pain by trying to cram our toes into a shoe box that was clearly not designed for human feet!
Girls, let's stop being Cinderella's evil step sisters and instead pick the slippers that fit our feet!
I don't know about you, but I'd rather be hiking for many more years to come and if your prince charming doesn't want to hike with you because you wear shoes that fit, then he is clearly not the prince charming you thought he was! (Wink wink guys…we know you want us gals to be comfy on the trail!)
We want you to be comfy too so we can enjoy those hikes even longer!
Related Reading: : Best Hiking Boots for Flat Feet
What is THE Best Wide Toe Box Hiking Shoe For Women?
As I mentioned before, I've had to update this category just a bit. When it comes to trail runners, while I love my Salomon's, I love my Altra's even more. So I'm bumping the Salomon's to #2.
After several years of personal experience and reading hundreds and hundreds of reviews, I'm pretty firm on recommending Salomon's as the BEST WIDE TOE BOX SHOES for hiking (and daily wear for that matter).
Whether you are trekking through the streams of the Smoky mountains or exploring slot canyons in the national parks out west, these lightweight waterproof hiking shoes will do the trick.
What is THE Best Waterproof Hiking Shoe With Wide Toe Box?
And the winner for best waterproof hiking shoe is still the Salomon Men's and Womens' X Ultra.
Salomon's Women's X Ultra and Salomon Men's X Ultra both have the same great SENSIFIT™ technology that allows Salomons to envelop the foot and create an almost customized fit.
So if you are looking for ultralight waterproof hiking shoes with a low cut, again, Salomon is still our pick for the best lightweight hiking shoes on the market.
Best Minimalist Hiking Boots
As much as I love my Solomon's, another great wide toe box shoe is the Xero Shoe.
Xero Shoes are designed on the premise that a shoe should be designed to fit the natural shape of a foot.
Makes sense, right?
Here is a great video by the owner, Stephan Sashan, explaining why a shoe that fits your foot the way it is created is the best for your feet.
I'm pretty excited to see Xero Shoes continues to expand their line of casual and outdoor footwear.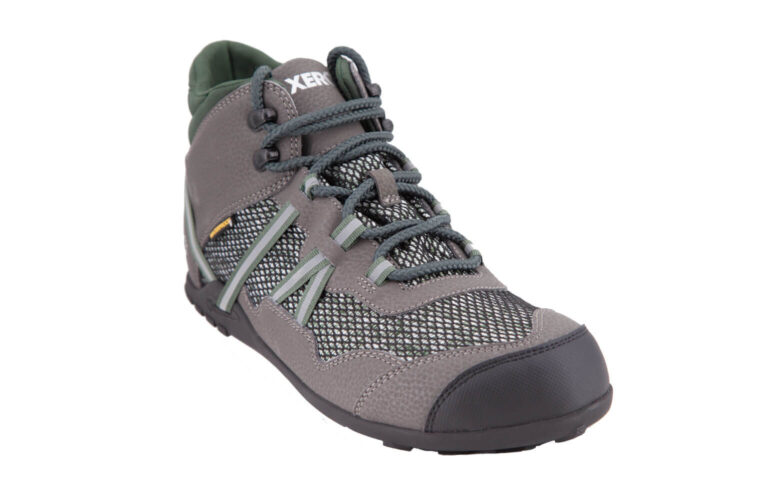 While many manufacturers claim to produce a "wide shoe" the toe box is often still too narrow which leads to cramping and pain on the trail.
A shoe that is too narrow in the toe box causes your toes to be cramped and forced into a wedge.
After hours of hiking up and down a trail and jamming your toes against the end of your toe box the result is painful and sore feet and toes.
However, a shoe that truly has a wide toe box will allow the natural splay during your trekking and will decrease the discomfort as well as risk for long-term deformity to your feet.
Related Reading: Best Minimalist Hiking Boots
AUTHOR'S NOTE: I can't wait to try out some mid-top Altra's (which I haven't done just yet so I'll leave the Salomon's in #1 for now). But, if I'm betting, I think the Altra's will win out for wide toe box hiking boot, too. I'll let you know after I've had a chance to try them.
Do you have a favorite wide toe box shoe? Let us know your suggestions.
Related Hiking Resources