Just like having a new shiny toy or a brand new car, you may be itching to start using your new electric smoker, but before you get to fire it up and start smoking your favorite meats, you need to season your new smoker. In this guide, we will walk you through how to season an electric smoker properly.
Don't Forget To Pin It For Later
Should You Season An Electric Smoker?
YES, and to put it in a simpler term, "Seasoning" an electric smoker is like a practice run of the unit. It's important to season your new electric smoker for the following reasons.
1. To remove any residue left behind from the manufacturing process
Electric smokers are made in factories that are exposed to hazardous chemicals like solvents, industrial oil, paints, cleaners, adhesive, and dirt. You wouldn't want these unpleasant chemicals to come in contact with your food.
2. To protect and add years to your smoker
The process of seasoning helps in curing the coating or paint inside your electric smoker. Seasoning your smoker will also help prevent rust from forming inside the smoker especially during wet climates.
Join The Grill Master's Club
What's better than a BBQ at the campground? A BBQ where you are the Grill Master!
Join the Grill Master's Club today and start receiving your monthly subscription box today. Click the link below to learn more about what's included and why your' going to love being a member of the #grillmastersclub!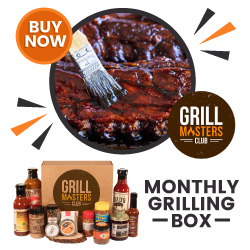 What Is the Best Oil to Season a Smoker With?
While standard vegetable cooking oil is commonly used oil when seasoning an electric smoker, you can also use the following oils in your smoker.
High-temperature palm
Lard
Grapeseed oil
Peanut oil
Bacon grease
Corn oil
Sesame oil
Canola oil
Camping Meals shouldn't leave you stuck in the RV prepping all the food while everyone else is outside enjoying nature.
Camping meals should be some of the best memories you make with the family at the campground.
With a good menu plan and grocery list beforehand, you can spend less time prepping your camping meals and more time enjoying the great outdoors with your family.
With our Digital Camping Meal Menus and Grocery Lists, you will:
Be able to create your grocery lists on your phone or laptop.
Edit them on the go or at home.
Download PDF printable versions when needed.
Keep on your particular eating style or budget even while camping.
How To Season An Electric Smoker?
Now that you know what "Seasoning" is and its importance, it's time to jump in on the actual process of how to properly season your electric smoker.
Prepare and assemble the parts of your electric smoker
Unpack your smoker and check for any irregularities. Carefully assemble the unit according to the manufacturer's instruction.
If it comes pre- assembled, make sure the screws are tight and check for parts that are not securely attached with one another.
2. Wash or wipe the inside of the smoker
If you wish to do this, you can wipe it with a damp cloth or wash the inside of the smoker using soapy water. Make sure that you do it carefully so as not to scratch or damage anything in the process.
3. Coat the inside of the smoker with a thin layer of oil
Use cooking oil to coat the inside walls of your smoker. You can do this using cooking oil spray or a small amount on a soft cloth. Remember to apply only a thin or light coating of oil on the walls.
Remove and do not to coat the following parts: chip tray, wood tray, grease tray, and water tray and heating element
4. Put back all the tray and racks inside the smoker
Keep everything empty, do not put water or wood chips on the trays.
5. Start your smoker for the first time
Plug in your smoker and power it on.
Extension cords are not recommended but if necessary make sure you use a heavy-duty extension cord with a three pronged grounded plug.
Shop Grilling Accessories
One of the best things about an outdoor lifestyle is outdoor food! Whether you are camping, boating, or just having a BBQ at home, grilling and smoking food are some of the best ways to enjoy the outdoor life. Here are a few grilling accessories from Z-grill we think you will love.
6. Open the top vents all throughout the process
This allows the burnt residue to escape from the inside of your smoker chambers.
7. Set the temperature to 275°F and timer to 3 hours
The maximum temperature for most Masterbuilt smokers is 275°F. Max temperatures can be varied so make sure to check what is the maximum temperature your smoker has.
Set the timer to three hours, it's okay to exceed this time a little, but make sure that you start with a minimum of 3 hours.
8. Add wood chips
This step is done in increments
Add 8-12 chips into the wood chip tray
After 20 minutes put another batch of 8-12 chips to the wood chip tray
After 20 minutes again, add load another batch of wood chip to the tray
Leave it smoking and wait until you reach the 3 hour mark.
9. Finish it off with one last step
Turn off the electric smoker and carefully open the smoked filled chamber. Use a cloth to wipe off the chamber walls and you're all done!
With these simple steps, you can be sure that you are going to have the best smoked meat you can imagine without worrying about the chemical residue sticking to it.
Once you completed, you can begin smoking meats and won't ever have to repeat this process, as this is only done once.
You Might Also Be Interested In our Other Outdoor Living Posts