October is one of the best times to travel in the USA. Throughout most of October in the US, the public schools are in session making October a great time to experience smaller crowds and more affordable hotel rates.
These "fall fabulous" places to travel in October will inspire you to book your fall family October vacation right away!
Don't Forget To Pin It For Later
Best Places To Visit In October In The US
October brings cooler temperatures and less humidity in the south.
The beautiful fall foliage of New England and the Appalachian regions in the eastern United States is practically begging to be explored by hike or bike ride.
The harvests in California calls to foodies and wine lovers, and if you desire to extend the summer, Hawaii has the warmest water temperatures in October.
There are truly hundreds of great places to travel in October throughout the US!
Here are a few of the best places to travel in October in the US.
Does a cross country road trip in an RV this fall sound like something your family would love? Our partners at Outdoorsy have literally hundreds of RV rentals available across the US! Try it before you buy it or take that family adventure you are dreaming about without the commitment of purchasing an RV.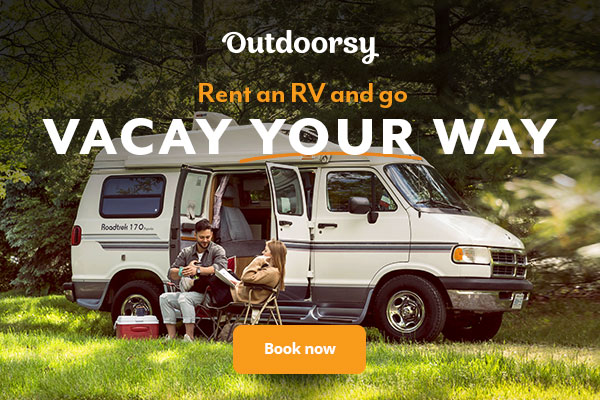 Smoky Mountains National Park, Gatlinburg, TN
As an outdoorsy family, we enjoy hiking in the fall especially in US National Parks and the Smokies are, of course, our favorite! (No bias here!!)
The Appalachian Mountains and eastern highlands of the USA are simply stunning in October.
As you may well know, The Smoky Mountains National Park is the most visited national park in the United States with over 11 million visitors each year.
Thankfully, not all 11 million visit in October, but according to the National Park Service over 1.2 million families do make the Smokies part of their October vacation plans.
That being said, don't let that stop you from enjoying a Smoky Mountains Vacation in the fall! There is a reason why the Smokies are so heavily visited during October!
Related Reading: Best Places To Travel In December
The stunning beauty of the mountains is year round, but in October there is nothing quite like the bursting forth of orange, red, and yellow that occurs.
Consider taking The Smoky Mountains Trees of Many Colors tour, or visit the new Anakeesta for amazing views of the Smoky Mountains in the fall, ride an ATV through the beautiful Bluff Mountain, or rent your own jeep and set out to explore the mountains for yourself.
Leave time to attend one of the many fall festivals like Dollywood's Harvest Festival, Oktoberfest at Ober, or the very popular Craftsmen's Fair in Gatlinburg.
Finally, don't miss the many great restaurants in Gatlinburg.
We have several resources to help you plan a Smoky Mountains vacation in any season.
After over 35 years of vacationing in the Smokies, October is still my favorite time to visit despite the crowds and it's one of the few national parks that is still absolutely FREE to enter making it one of our recommended cheap family vacation destinations in the US as well!
Smoky Mountains Vacation Resources
Related Reading: Cheap Family Vacations In The USA
Yellowstone National Park
According to our friends over at PhotoJeepers, Yellowstone is quite the opposite when it comes to visiting in October.
In fact, if you want to avoid crowds, one of the best times of year to visit Yellowstone National Park is in October.
"October in Yellowstone has become one of our favorite times because it's not crowded, the elk rut fills the air with unique bugling sounds, the annoying bugs are gone, and the park exhibits a quiet autumn calm."

The big tip for visiting in October is BE PREPARED.
The weather in Yellowstone can be fickle in the fall.
You may have sun one day and snow the next.
Or you'll have snow then sun all on the same day.
Wear layers and pack items for rain and snow so you can enjoy the outdoors even if it's cold and wet.
It's important to know that services and roads start to close for winter in October. Be sure to check the NPS website for the dates when services and roads close.
There may limited services for food and gas available.
We recommend you pack a cooler with drinks and food to have with you as you explore Yellowstone.
The service stations around the park open and close seasonally, but the gas pumps are open year-round at Mammoth Hot Springs and Tower Junction.
As long as you are prepared for all types of weather and plan ahead to know what's open and available in the park during the times you'll travel in October, you won't regret visiting at that time.
Check out these beautiful locations to rent near Yellowstone NP on AirBnB
You'll fall in love with the landscape, geysers, and wildlife even more when you can experience it without the heat, bugs and tour bus crowds you find during the summer.
Unlike the Smokies, Yosemite is not free to enter.
We recommend you consider purchasing an America the Beautiful National Park Pass from REI as they will donate 10% of the proceeds to the National Park Foundation.

New York In October
One of the top October travel destinations in the USA has to be New York City, especially if you're a culture hound.
The best thing about being in New York in autumn is that you can comfortably explore it both inside and out, getting the best of culture and the outdoors.
Not too hot, not too cold, NYC in October is ideal for catching the fall colours in Central Park and combining it with a trip to the world class Metropolitan Museum of Art, which sits right at the edge of the park at 1000 5th Avenue.
Save time and money when visiting the Big Apple in the fall with a New York CityPASS
Autumn is also when the top commercial galleries ramp up their fall showings, exhibiting the latest work by the hottest international artists, and there is no better place to see it than in Chelsea in Manhattan.
A few galleries to check out in this happening West Side locale?
Try Paula Cooper, Hauser & Wirth or Gagosian Gallery, and, if abstract expressionism is your thing, check out Berry Campbell for its stable of modernist artists.
Another great thing about visiting Chelsea is that you can view the fall colours from the High Line, an elevated park built on a former rail line, and mix it up with stops at the oh-so-trendy Hudson Yards for a bite or some serious shopping.
New England In October
Perhaps the most well known area of the US to visit in the Fall is New England. One of the best October vacations you can take in the US is a road trip through New England.
The states that make up New England, Connecticut, Rhode Island, Massachusetts, New Hampshire, and Vermont, are rich in natural beauty, American history, and delicious food!
Here's a brief overview of what you can expect if you visit New England in October.
Connecticut
There are seven scenic drives to take through Connecticut and October is the best time to take them!
Also, take time to visit Hartford, CT, the state capital and largest metro area in Connecticut as well as the very affordable New Haven, CT to tour Yale University and enjoy some amazing pizza.
Our family also enjoyed visiting the Seaport town of Mystic, CT where you can get a delicious lobster roll if you aren't captured by pirates during the mid-October Pirate Invasion.
Plenty of Beautiful Rentals in New Haven, CT in October- Even on the Beach!!
Rhode Island
Bring on the Festivals! Don't let the size of Rhode Island fool ya, this little New England state is a popular summer destination for the rich and famous.
In fact, according to Forbes magazine, Newport, RI's population swells from 27,000 to 100,000 in the summer. That's why visiting Rhode Island in October is the way to go.
Enjoy the crisp air, the beautiful scenery, and get your festival on!
Don't forget to make time to visit the famous Newport Mansions as well.
Massachusetts
Drive across the 63 mile Mohawk Trail for stunning fall scenery, attend an Cranberry Festival, take the kids on a fun filled apple picking journey, and experience the best of Boston with an all inclusive City Pass card.
Book a Fall Foliage Sightseeing Day Trip with Lunch From Boston
New Hampsire
New Hampshire's White Mountains!
Really, there isn't any other reason to give you for visiting New Hampshire in October than this!
They are simply stunning. Our family enjoyed an amazing weekend at the Omni Mount Washington Resort last fall and wouldn't hesitate to book it again.
We took time to include a day hike through Franconia Notch State Park in Lincoln, NH as well as a ride to the top of Cannon Mountain via aerial tramway where on a clear day you can see four US states and Canada!
If you have extra time, we also recommend you add the Mount Washington Cog Railway to your agenda!
Take a 2-day Hiking Excursion through the White Mountains with Viator
Vermont
Our good friends at Backroad Ramblers are the go to experts on all things Vermont!
When it comes to brilliant fall-foliage destinations, you can't really get more iconic, or more beautiful than autumn in Vermont. Every little Vermont village decks itself out with all its fall finery. There are harvest festivals every weekend, farm stands brimming with produce, and of course, gorgeous fall colors everywhere you look.
The best time to visit Vermont for fall colors is between late September and mid October. In September, we recommend visiting the Northeast Kingdom or Stowe. If you're visiting in October, check out the southern Green Mountains or the Champlain Valley near Burlington.
Maine
We've reached the end of our New England journey, but certainly not the end of our New England beauty. Being the National Park lovers that we are, we recommend you focus on Acadia National Park in October for its scenic beauty.
The summer crowds have gone home, but the fall foliage is at its peak in mid-October!
Crowds will be slightly lower if you visit in September after Labor Day, but the leaves were not yet showing when we were there during that time.
Napa Valley, CA in October
Taking our October touring of the US back to the west coast, let's talk about wine!
The folks at Once in a Lifetime Journey shared with us that October is a great time to visit Napa Valley.
Here are some tip they have for enjoying a fabulous Fall getaway in Napa Valley. (You might want to leave the kids with the grandparents for this one!)
While Napa is always a good idea, no matter what time of year it is, October is a really nice time to visit Napa Valley as it is still green, with glimpses of Fall orange coming into play. It's also the last month that St. Helena's Friday market is open, so you can still explore the local produce in a bustling atmosphere.

Start the day with some breakfast at Thomas Keller's elevated bistro concept Bouchon, then take a spa day in some globulous mud baths at Calistoga. On land catch the Napa Valley Wine Train and for some unique views you can head to the sky on a helicopter tour or hot air balloon ride.

Of course, the best thing to do in Napa Valley is to explore the wineries. No visit is complete without visiting Robert Mondavi, the pioneer of the region. V. Sattui is quite accessible, Domaine Chandon is great for bubbles and Domaine Carneros has a gorgeous castle to feel like a prince or princess.
For more tips, visit their Things To Do In Napa Valley article.
Hawaii in October
If you just aren't into seeing the temperatures drop just yet and you want to extend those summer sun tanning days, consider a trip to Hawaii in October.
Clara from Petite Capsule tells us that Hawaii in October is great because the water temperatures are at their warmest and the crowds are at their least.
"Hawaii is one of the best travel destinations in the USA. October is a fantastic time to visit because the ocean temperatures are the warmest this time of year. This makes it ideal for swimming at Kahanamoku Beach, Waikiki Beach, Kailua Beach and Lanikai Beach; snorkelling at Hanauma Bay; and other water sports. The excellent surfing conditions on the north shores starts as well. The weather is fantastic as October is part of the dry season, which makes it great for nature walks including the Manoa Falls Trail, the Diamond Head Summit Trail, and the Koko Crater Railway Trail. Also, it is less crowded compared to the popular summer months. Travelling to Hawaii in October is great for bargain hunters as hotels and airfares are generally cheaper. There are also many events in Hawaii during October, such as the annual Hawaii Food and Wine Festival. Hawaii is a must travel USA destination in October."
More Best Places To Travel In The US
What are your favorite places to travel in October in the US? We'd love to hear about them!