Suffering from bunions certainly makes finding a comfortable and attractive sandal a difficult task. For years I've struggled to find the perfect sandals for bunions. What I didn't know was that a great sandal for bunions needs a wide toe box.
The difficulty with finding sandals to accommodate bunions is that most sandals and flip flops are designed with a narrow toe box that curves inward.
If you suffer from bunions, your feet most likely are wide in the toe box and your toes lean outward.
This makes finding an attractive sandal very difficult as your toes hang off of the sandal and, if you are like me, makes you feel like some kind've monstrous freak.
Laying aside the vanity, comfortable sandals for bunions is really the most important factor in finding a good sandal with a wide toe box.
After years of almost giving up, I have finally tried enough different brands to confidently recommend the following sandals to you if you have bunions and need a comfortable wide toe box sandal.
Don't Forget To Pin It For Later
Our Top Pick Sandals For Bunions
Great Sandals For Bunions By Xero Shoes
If you are like me and your preferred method of shoe wearing is no shoes at all, then Xero shoes might just be the answer you've been seeking.
In fact, Steven Sashen, the owner of Xero Shoes, tells us that is exactly how Xero shoes was started.
As a runner, he was always getting injuries until he learned to run barefoot, but as you can imagine, that does limit where you can go.
To make the story short, he created the Xero shoe for himself, and being entrepreneurial in spirit brought this great solution to bunions sufferers like you and me by making it his business to create comfortable shoes that fit real feet including extremely lightweight sandals with a wide toe box perfect for those with bunions.
You can read more of the story here and the rationale of Xero Shoes over on our Wide Toe Box Shoes for hiking article, but suffice it to say, a shoe that is created to fit the way God created your feet just makes sense.
Since their creation, Xero Shoes, has won several awards including being named by Backpacker Magazine as the "Ultimate Sport Sandal". You may have even seen them on Shark Tank a few years ago.
Xero Shoes has been growing and expanding and has proven to be a great option for those needing a wide toe box sandal and especially for those in need of a great sandal for bunions.
Xero sandals are 75% lighter than traditional sport sandals and come with a 5,000 mile warranty.
The Z-Trek sandal by Xero shoes is the perfect all terrain sandal for your feet. Because the sandal is designed to allow your foot to lie naturally and doesn't force it into a cramped toe box, it is the perfect selection for a bunion sufferer.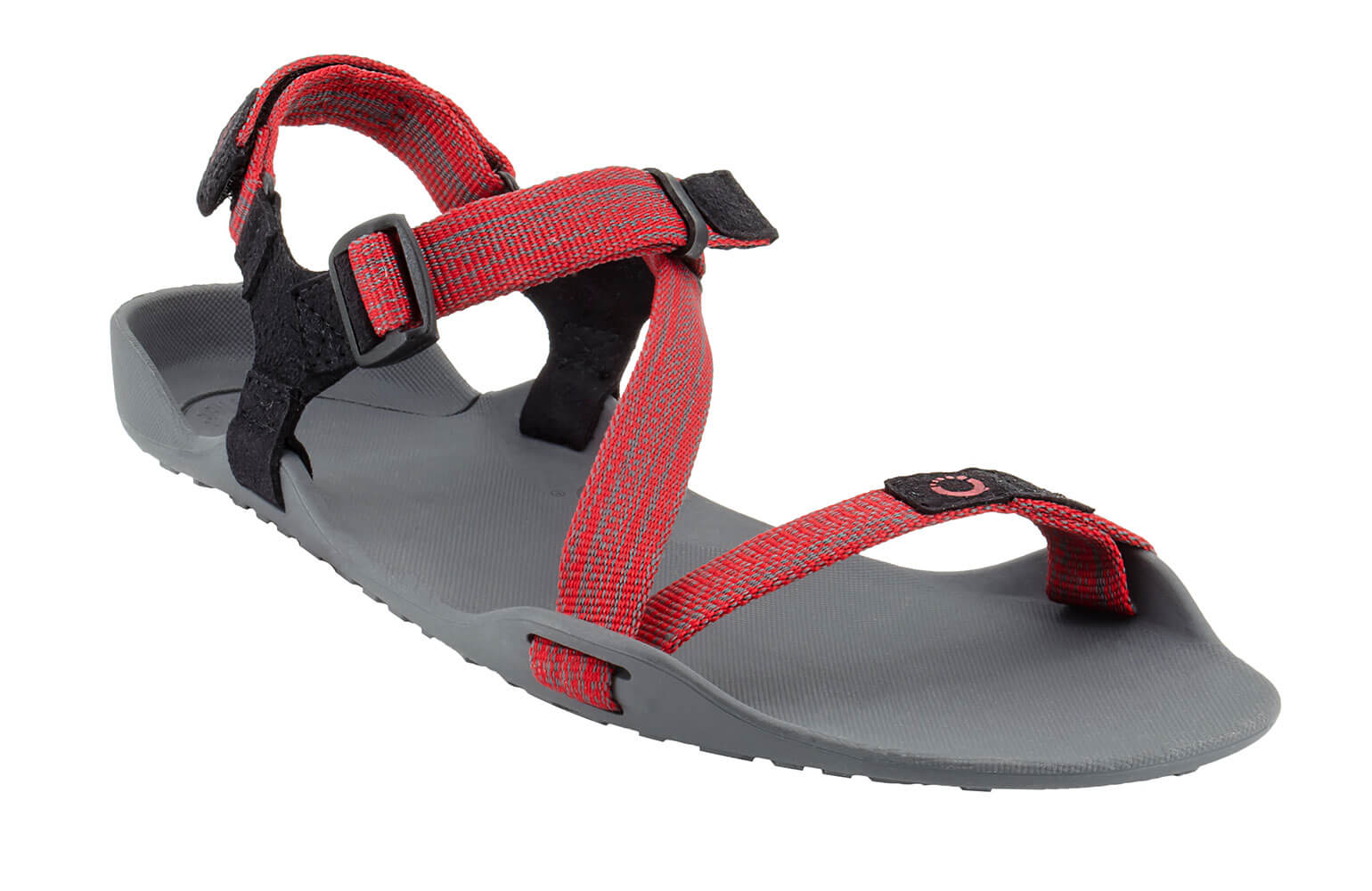 Z-Trek Lightweight Sport Sandal – Women – Xero Shoes
The Z-trek sandal is extremely lightweight yet durable and capable in every way. I'll let Steven tell you more about it. The shipping on Xero Shoes is free if you purchase over $30 so to support the company directly, we recommend you consider purchasing direct from Xero shoes.
Related Reading: Best Minimalist Hiking Boots
Best Sandals For Bunions By Keen
Keen shoes are well known in the hiking community and it's easy to see why. I have always purchased Keens for my children, but it wasn't until I did research for the best hiking shoes for bunions with a wide toe box, that I decided to purchase a pair of Keens sandals for myself.
I can tell you without hesitation that my Keen Rose Sandal is the most comfortable shoe I have ever owned and I wear them daily.
The only reason I don't wear them on the trail more is because I don't like digging pebbles out of my sandals, but even with that, the Rose sandal gets far fewer pebbles than my other hiking sandals.
However, the Keen Rose Sandal is more than a good hiking sandal. I wear them for my daily walking shoe, around the house shoes, and on all of our travel days where I can walk upwards of 7 miles. They are that comfortable and are my #1 recommendation for a comfortable wide toe box sandal.
Second to my Keen Rose sandal is the KeenWhisper Sandal. The toe box on this sandal is equally wide, but a bit more stiff making it an even better hiking shoe or waterproof wide toe box sandal.
However, I do find them to be a bit less comfortable out of the box than the Rose sandal so you may wish to break them in a bit before taking them on a long walk.
Best Sandals For Bunions By Teva
My husband can't understand why I prefer sandals over traditional tennis shoes and while I do love the Salomon Ultra for a hiking shoe with a wide toe box, I am going to pick a sandal every time if the conditions allow. If you suffer from bunions, you know it is because no matter how wide the toe box on a tennis or hiking shoe is, it isn't as freeing as a sandal and inevitably your feet will begin to hurt by the end of long day of walking.
The Teva Tirra Sandal has over 7000 reviews on Amazon with 90% of those reviews ranking them higher than 4 stars and 80% of that is in the 5 star range. You can see for yourself how many times the reviewers mention the comfort of this sandal for a wide foot.
I did a quick search in the reviews for the word "bunion" and found that there are ten 5 star reviews from people with bunions for the Teva Tirra sandal. One reviewer states,
"Best sandals I've had in years, especially since I have wide feet due to bunions and hammer toes. I was concerned when I saw that this shoe did not come in a wide size, but was reassured by reviews to try it. Fits beautifully. I ordered four more pairs in different colors and will probably order a few more in the basic neutrals I already have to keep in my travel bag."
Prior to owning Keen's I had a pair of Teva Verra Sandals that took me through six Disney trips in one year. Again, the reviews back up my own experience with more 2400 people giving the Teva a near perfect ranking. Those with bunions also raved about the Teva Verra sandal stating they were very comfortable right out of the box so much so that multiple pairs were purchased.
Both the Teva Verra Sandal and the Teva Tirra Athletic sandal receive high marks by those needing a wide toe box and coming in at under $60 makes them a great affordable sandal.
Clearly Teva sandals make a great wide toe box sandal for those bunions.
Best Sandals For Bunion By Merrell
Our final selection of sandals for bunions are Merrell Sandals. Merrell is also a well known brand for great hiking shoes, and it seems their sandals live up to the same quality standards.
The Merrell Sandspur Rose sandal doesn't receive as many positive reviews as Keen and Teva, but they are still considered a great sandal for bunions and some may argue that they are more attractive than the other brands we've previously mentioned. The price point is under $70 making them moderately priced and a viable option for anyone.
What sandals have you found to be the most comfortable for your feet?
Check Out These Other Helpful Guides